Jason Keller is Appointed new Tournament Committee Chair
June 2015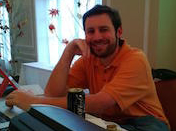 Jason Keller has been a NSA/NASPA member since 2007, with 211 tournaments and 41 wins under his belt. He has also competed internationally at the Scrabble Champions Tournaments in Prague and London. In his eight forays at Nationals, his best result was in 2012 where he dominated through Round 20 -- when he beat Nigel Richards -- and finished at 19-12, just out of the money.
His moniker of Orangepants derives from his flamboyant dress style, prominently featuring that color between red and yellow. In addition to Scrabble, he excels at solving crosswords puzzles, having been a ten-year competitor at the American Crossword Tournament. A trivia wiz, Jason earned the big bucks as a nine-time winner of Jeopardy! in December, 2011, as well as in the 2013 Tournament of Champions. Perhaps his most impressive feat, however, was losing 90 pounds on Weight Watchers. A graduate of Cornell with a BA in Computer Science, he works as a professional tutor for Revolution Prep.
On May 1, 2015, Jason became the new chair of the Tournament Committee, so we thought we'd have a chat with him.
So, Jason, congratulations on being appointed the new chair of the Tournament Committee. How did you feel when you got the news that Dallas Johnson had passed the reins to you?
I was a little bit surprised and a little bit scared at first, but now I feel that this is a good role for me. I might be biased, but Dallas made a good choice in picking a successor. :)
You've been a member of the TC since 2010. How did you initially become involved?
I had only become a part of the Scrabble scene three years earlier, but I was interested in helping at tournaments in any way that I could. I'd passed the Director's Test and started helping with pairings and administration at tournaments in Philadelphia and Atlantic City.
In 2010, the Tournament Committee was seeking new members. I felt that the committee would be a good fit for me because I had a variety of experiences with bowling leagues, tennis tournaments, quiz bowl competitions and crossword puzzle tournaments. I have seen the good, the bad, and the ugly of organized competition.
Describe a typical month on the TC - if indeed there is a typical month.
I've made a point of sending out an agenda early each month outlining what issues the committee has to deal with and who is responsible for sanctioning tournaments each week. The committee deals mainly with sanctioning requests, Incident Report submissions, and policies regarding tournaments and sanctioning. Most of our work is normally centered on sanctioning requests, and the volume can vary from week to week and month to month.
What are recurring issues the TC has had to address during your tenure as a TC member?
We've been keeping an eye on the tournament sanctioning process, and on occasion we have discussed whether changes need to be made. We also had few incidents to deal with at high-profile tournaments.
Going forward, what do you see as the biggest problems you'd like remedied?
At the directors' meeting in Buffalo last year, John Robertson called it "the eternal question:" how do we get more players to clubs and tournaments? I would love to see an increase in overall tournament attendance, and especially in multi-day tournament attendance. Multi-day tournaments are more challenging to win as a player and more challenging to organize as a director, and I would like to see directors and players better rewarded for meeting the challenges.
In some areas of the country, there is a lot of congestion on the tournament calendar, which may be splitting the pool of attendance too much. I would love to see that clear up, and in turn, help out directors who have been struggling to fill out tournament fields.
How do you envision the future of NASPA and how we/you can contribute to its longevity and growth?
Since NASPA was formed, I thought that it could, at its best, become something like the US Bowling Congress or the US Tennis Association, but on a smaller scale. Namely, NASPA can be an umbrella organization that serves its members of all stripes well, with a tournament calendar that strikes a good balance and provides opportunities for everyone -- the championship aspirant, intermediate player, or casual player -- to have his or her moment in the sun.
I would like to make sure that our tournament sanctioning policies move us toward this goal. I am reminded of my experience at this year's American Crossword Puzzle Tournament. Everyone who attends loves to solve crossword puzzles, there is a mutual respect among solvers and constructors, and most who take part leave happy.
I think that at Scrabble tournaments we often lose sight of the big picture and fixate on divisions or prizes or pairings. We should step back and remember that we all love this game, appreciate that we may have different motives for playing tournaments, and be happy to be playing the game that we love.

Interested in joining the Tournament Committee? Volunteers currently needed! Read more here.