NASPA-sanctioned tournaments are held in a wide range of tournament venues — hotel ballrooms, convention centers, community centers, church basements, restaurants, cruise ships, etc. — according to the needs of the players and directors.
At the high end, a national event for 400–800 players would almost always be held in a hotel ballroom or convention center and be organized by NASPA staff. Such an event would usually be planned at least a year in advance based on in-house research, though unsolicited bids are welcome. Contact us for the current RFP.
Our premier event, the NASPA Championship, was for some time being scheduled with some flexibility on a four-year geographic rotation in the Northeast (2014, 2018), West (2015, 2019), Midwest (2016, 2020), and South (2017, 2021). As of summer 2019, we have received some bids for 2020 and 2021, and are open to bids from outside of this rotation.
The event was recently held in the following locations:
2019: Reno, NV. Silver Legacy Resort Casino.
2018: Buffalo, NY. Hyatt Regency and Buffalo Niagara Convention Center.
2017: New Orleans, LA. Hyatt Regency
2016: Fort Wayne, IN. Grand Wayne Convention Center.
2015: Reno, NV. Silver Legacy Resort Casino.
2014: Buffalo, NY. Hyatt Regency and Buffalo Niagara Convention Center.
2013: Las Vegas, NV. Riviera Hotel.
2012: Orlando, FL. Royal Pacific Resort.
2011: Addison (Dallas), TX. Hotel Intercontinental.

Competition starts on the last Saturday in July, give or take one week, and runs for five days ending on a Wednesday. Before the event, supplies begin arriving on Monday and staff on Wednesday; setup takes place on Thursday and a warmup event alongside registration on Friday. After the event, teardown takes place on Wednesday, some staff leave on Wednesday night, and remaining staff and supplies leave on Thursday. Depending on other local attractions, players may wish to book additional shoulder dates.
Here is what our ideal national event site would include the following; a more detailed RFP (request for proposal) is available on request. See also further down on this page for a more detailed discussion of general requirements for tournament sites.
Main playing room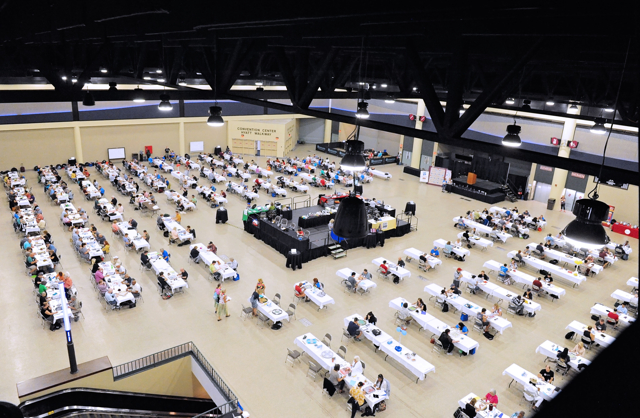 about 20,000 square feet, configured in one open, undivided space with lines of sight to all points in the room from a central position; a little larger or smaller is fine; 10,000 square feet is about the smallest space that we could function in, and would require substantial redesign of our event..
either a ballroom or an exhibit hall is fine
quiet: our group likes to concentrate quietly, will not disturb others, and does not want to share space with groups that make loud noises
bright indirect lighting: must be bright enough for people with moderate vision impairment to read comfortably, but not cause glare on equipment
good climate control: must be sufficient to maintain a comfortable atmosphere for 400–800 players to sit in and not have to change clothes over the course of the day
no mirrors: player tiles must not be visible to opponents, like cards in a bridge or poker tournament
accessible to the disabled: must include accessible restroom facilities near the playing room
100-200 30"x6'~8' rectangular banquet tables: 3'-wide tables are not acceptable, and pairs of 18"-wide tables less so. Availability of color-coded linens is a plus.
400~800 chairs: players play one-on-one, two games to a table, so four chairs to a table
one centrally located riser for our command center
one riser for a stage, with podium, mike and P/A system
one wired Internet line, unlimited WiFi: we upload content to build our live event website, which may include one video feed and photos and data that add up to less than the bandwidth of a second video feed; players access the event website to download small graphics and text giving them their current standings and next opponents
unlimited electrical drops: typically six on the command center and about ten throughout the room for word adjudication laptops
Ancillary requirements
one nearby lockable site office
three nearby lockable breakout rooms of about 1,000 square feet each
free parking, WiFi Internet and access to fitness room and pool for on-site guests
a good on-site or nearby restaurant where small daily lunch meetings can be held
good cheap concession catering so that players do not have to go off site for breakfast and lunch
location near a major air hub, with reasonably priced ground transfer services able to handle the simultaneous departure of our entire group
accommodation either in or immediately adjacent to the playing area, with a fully accessible connection
Other tournaments
Many club directors organize an annual regional tournament that may attract 50–200 players. These tournaments may be held at hotels, but especially at the smaller end they are more commonly found in other public spaces such as community centers and churches. These events would be planned six to twelve months in advance, and might use a site selection service, but would more often not.
Some clubs also organize more frequent, smaller events for 4–40 players that meet either in public spaces or restaurants (where players may be required to make a food purchase in exchange for their use of the space). We require eight weeks' advance notice for a tournament booking; clubs which host events regularly may sign contracts with the same venue for a year or so in advance.
At all levels, organizers look for the following in a venue:
Space, tables, chairs: tournament Scrabble is played one-on-one at square or rectangular tables 2.5–3 feet wide. One game can fit on a square table; two on a 6–8-foot rectangular banquet table. There must be room between tables for players to move comfortably on foot or in a wheelchair. A director will also need an electrical drop for computer and printer, and at a large event a public address system.
Low venue cost: in industry jargon, we are SMERFs (Social, Military, Educational, Religious & Fraternal) and typically book space that would otherwise go empty off-season.
Pleasant playing environment: bright but non-glare light, quiet, not too hot or too cold, a reasonable number of restrooms nearby.
Reasonably priced catering: players are hurried during their short lunch breaks, will eat on-site if offered convenient and reasonably priced food, but will otherwise find fast food off-site.
Accessibility to the disabled: all organizers must announce whether or not their event will be accessible, and are strongly encouraged to make it so.
Convenient but separate smoking areas: smoking players need quick access between rounds to a place where they can smoke; non-smoking players do not want to have to pass through smoke to get fresh air.
Free Internet access: directors often post their tournament results live online.
If you manage a venue that you think would be appropriate for a Scrabble tournament, you may contact us at info@scrabbleplayers.org or look through our club roster for the contact information for a director near you.