Line 1:
Line 1:
 

<div style="text-align:center;max-width:40em">[[Image:Nsclogo-192.gif]]</div>

 

<div style="text-align:center;max-width:40em">[[Image:Nsclogo-192.gif]]</div>

 
 
−

The '''2009 National SCRABBLE'''&reg;''' Championship''' took place on August 1&ndash;5, 2009 at the Dayton Convention Center at 22 East Fifth Street, Dayton, OH, 45402.  

+

The '''2009 National SCRABBLE' Championship''' took place on August 1&ndash;5, 2009 at the Dayton Convention Center at 22 East Fifth Street, Dayton, OH, 45402.  

 
 
 

To find out more about how the event turned out, please see the

 

To find out more about how the event turned out, please see the
---
Revision as of 10:34, 10 October 2017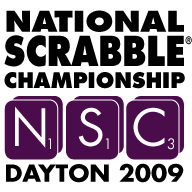 The 2009 National SCRABBLE' Championship took place on August 1–5, 2009 at the Dayton Convention Center at 22 East Fifth Street, Dayton, OH, 45402.
To find out more about how the event turned out, please see the archived live coverage.
Message from Chris Cree
July 17, 2009
We are very excited to have 483 NSC registrants at this writing, and plans are shaping up nicely for an exciting tournament.
I'm also pleased to announce another donor to NASPA--Sam Kantimathi. Sam is donating the following: one set of NASPA SmoothTiles®, choice of special NASPA NSC colors, while each lasts, to every NSC participant; 15 round and 5 apple-shaped SamBoards® for prizes, 3 of which will be available at the top three tables in each division for players who would like to use them, and 5 classic SamTimers® for prizes, 3 of which will be available at the top three tables in Division 1 for players who would like to use them.
In addition, Sam will be selling NASPA SmoothTiles® tiles in his vendor area and is donating 50% of the gross sales of these tiles to NASPA. SamTimer®, SamBoard® and SmoothTiles® have been named the official clock, board and tiles of NSC09.
Chris Cree
July 1, 2009
We are just over 4 weeks away from our annual national convention which we call the National SCRABBLE Championship.
With about two weeks before registration ends the emails are really starting to fly from all over the globe; Thailand, Malaysia, England, Israel and points in between and beyond. All are preparing for the severest test, yet the most exhilarating of all events, the National Championship.
Nigel Richards, from Malaysia, will be back to defend his crown. 2008-09 Player of the Year, Dave Wiegand, will be looking for another crown. Panupol Sujjayakorn, finalist of a few years ago, will be back to contend along with Amnuay Ploysangngam's contingent of excellent Thai players. There are contenders at every level.
The quality of play continues to increase exponentially across the entire spectrum of players. I am no longer amazed by walking past Division 5 boards and seeing words such as PEMBINA and CABILDO – rarely seen at any board 25 years ago. Everyone's vocabulary is just superb.
We have adopted unlimited play-ups this year and many players, who otherwise would not have the chance, are eager to prove their mettle.
Hasbro has committed to a $15,000 sponsorship. Merriam-Webster will be providing tote bags. We are currently negotiating to bring WorldWinnersCube in to set up an after-hours event with an undetermined amount of prize money during the course of the event. Players are donating their wares. Vendors will be vending their SCRABBLE-related gear including Wordgear from the NSA. Williams & Co. (remember those guys?) will be providing public relations support, along with Hasbro's PR department. Other players have events scheduled for evening entertainment. Has anyone scheduled an open mike talent show yet? We ought to have one. All of the committees will have the opportunity for face-to-face discourse to address their respective issues. There will be a Town Hall open to all players to attend.
There are plenty of other activities and points of interest as well. Take some time and look over the rest of our 2009 NSC link on this website.
Please join us this August 1-5, 2009 at the Dayton Convention Center as we celebrate our game and crown this year's National Champion.
Chris Cree
March 21, 2009
Welcome to the 2009 National SCRABBLE Championship! The Dayton Convention Center will once again house the event. Those who were there in 2007 know just how much space we had. There is all sorts of room for play, after hours play, posting of pairings and results, vending and other after hours activities.
This year's event is unique. The event was originally signed and contracted to be the second Players Championship. Then, as many of you know, things started happening last December as far as organized tournament SCRABBLE, Hasbro and the NSA were concerned. At that time, 17 players and 4 members of the NSA staff, including John and Jane Williams, were asked by Hasbro to attend a meeting at Hasbro –Games headquarters in Massachusetts. At that meeting, we received the not unexpected, though still shocking news that Hasbro was no longer going to fund the tournament scene and instead focus their support to the NSA on School SCRABBLE and casual player outreach beginning January 1, 2010.
To Hasbro's considerable credit, they could have merely told the NSA to tell us they were finished and that would have been that. They offered a full 13 months of transition time. We felt it wise to not have over a full year of transition issues and get NASPA going as quickly as possible. July 1, 2009 will be the turnover date.
In between now and June 30, membership in either the NSA or NASPA will suffice to participate in a sanctioned tournament. Beginning July 1, one must be a NASPA member to participate in a sanctioned tournament.
Among the issues addressed at this meeting was the issue of the National SCRABBLE Championship. It had for many years been a biannual event. With an ESPN television contract in the early '00's, the event went annual. In 2006, Hasbro announced the reversion to a biannual event. This brought forth the idea of the Players Championship to complement the Nationals every other year to still give us our annual convention-type event.
With the announcement of separation, we were told that we would be organizing our own National Championship. May we go back to an annual event? Yes. May we call the Players Championship already scheduled for 2009 the National SCRABBLE Championship? Yes. So, here we are.
This event is different from any NSC in the past. It will not have official NSA support, though Hasbro has promised a reduced sponsorship. This year's NSC will be similar to the PC in 2007 - player organized and funded.
In 2007, we received approximately $8,500 in cash plus various articles for awards in player donations and $10,000 in Hasbro sponsorship. We are hopeful of similar or greater sponsorship from Hasbro and still very much need your donations to help make this a grand event befitting of the NSC moniker. In addition, we need volunteers for staff and equipment provision. Please contact the 2009 NSC's Director, Mary Rhoades, at mrhoadestx@gmail.com with your offer of financial assistance, gift or personal service. Onward and upward,
Chris Cree NASPA Copresident
NASPA Fundraiser
A fundraiser for NASPA by Gene Tyszka and Bob Schoenman is now underway. This is in the form of raffles of a beautiful limited edition board, signed and numbered, a fold-up custom board, and six sets of Protiles. Only four of the limited edition board have been or ever will be made. You may buy tickets to the raffle at the NSC. Check the details here. All monies raised in these raffles will be donated to NASPA.
The Rose Award
Bob Schoenman's Protiles would like to honor Rose Kreiswirth's memory. Rose was an expert Scrabble® player for over 30 years and cherished the game for its educational values. An accomplished player, Rose was as well known for her sense of fairness and her congeniality as she was for her competitiveness. The Rose Award will be awarded each year at the National SCRABBLE Championship to a female player who, in the opinion of the judges, best exemplifies the fierce competitiveness and compassion that we remember Rose for. Thank you, Bob and Andi Schoenman!
About Dayton
Dayton has a metropolitan population of almost one million and is located in southwestern Ohio. It is a center for industrial, aerospace and engineering research, and home to major multinational corporations.
The last major SCRABBLE tournament to be held in Dayton was the 2007 Players Championship, contested by 450 players from around the world.
The nearest international airports to the Convention Center are:
Dayton (DAY): 13 miles
Cincinnati (CVG): 67 miles
Columbus (CMH): 78 miles
For local information about what businesses and entertainment are within walking distance of the Convention Center, please visit our Google Map or the Dayton Most Metro web sites for the Central Business District and Oregon District.
A ten-day weather forecast for Dayton is available from weather.com.
Things to do in Dayton
Willie Pitzer, as she did in Dayton two years ago, has relentlessly researched activities and attractions in Dayton for our players and visitors. Check this Things to Do in Dayton link for her and other suggestions, which are very informative. If you have more questions about any of Willie's postings, please contact her at wswankpitzer@woh.rr.com
Schedule
Friday, July 31
10:00 A.M.–10:00 P.M.
Check in at registration desks in Convention Center Lobby
4:00 P.M.–5:00 P.M.
Committee Meeting for Division Leaders, Assistants and Auxiliary Staff, location TBA
7:00 P.M.–9:00 P.M.
Staff Dinner, hosted by Chris Cree, Stars Restaurant, Top Floor, Crowne Plaza
10:00 A.M.–11:00 P.M.
After Hours Play, Room 106, Convention Center
Saturday, August 1
8:30 A.M.–9:00 A.M.
Set up for play
9:00 A.M.–1:15 P.M.
Rounds 1–4
2:45 P.M.–3:00 P.M.
Set up for play
3:00 P.M.–6:15 P.M.
Rounds 5–7
6:00 P.M.–11:00 P.M.
After Hours Play, Room 106, Convention Center
7:15 P.M.–10:45 P.M.
Tag-Team Tourney, Room 106, Convention Center
Sunday, August 2
8:30 A.M.–9:00 A.M.
Set up for play
9:00 A.M.–1:15 P.M.
Rounds 8–11
2:45 P.M.–3:00 P.M.
Set up for play
3:00 P.M.–6:15 P.M.
Rounds 12–14
8:00 P.M.–9:15 P.M.
Director Meeting
9:30 P.M.–11:00 P.M.
Advisory Board Meeting
6:00 P.M.–11:00 P.M.
After Hours Play, Room 106, Convention Center
Monday, August 3
8:30 A.M.–9:00 A.M.
Set up for play
9:00 A.M.–1:15 P.M.
Rounds 15–18
2:45 P.M.–3:00 P.M.
Set up for play
3:00 P.M.–6:15 P.M.
Rounds 19–21
8:30 P.M.–10:30 P.M.
Town Hall Meeting
6:00 P.M.–11:00 P.M.
After Hours Play, Room 106, Convention Center
Tuesday, August 4
8:30 A.M.–9:00 A.M.
Set up for play
9:00 A.M.–1:15 P.M.
Rounds 22–25
2:45 P.M.–3:00 P.M.
Set up for play
3:00 P.M.–6:15 P.M.
Rounds 26–28
8:30 P.M.–10:30 P.M.
Steering Committee Meeting
8:30 P.M.–10:30 P.M.
Play Reading by Frank Tangredi
6:00 P.M.–11:00 P.M.
After Hours Play, Room 106, Convention Center
Wednesday, August 5
8:30 A.M.–9:00 A.M.
Set up for play
9:00 A.M.–12:15 P.M.
Rounds 29–31
2:30 P.M.–3:30 P.M.
Prize Ceremony
3:30 P.M.–11:00 P.M.
After Hours Play, Room 106, Convention Center
Lunch at the Dayton Convention Center
Aramark, who holds the concessions at the convention center, has firmed up their menu for us. Their meals are a modest $7.00 per person and begin on Saturday. There is also a coffee shop you can check out.
Saturday
Tossed salad with assorted vegetables, Baked ziti, Italian green beans, Breadstick, Brownie, Iced tea & water
Sunday
Seven-layer salad, Meatloaf, Mashed potatoes, Mixed vegetables, Cookies, Iced tea & water
Monday
Salad bar with assorted toppings to include grilled chicken strips, cucumbers, tomatoes, shredded carrots and red onions with a choice of dressing, Seasonal fruit salad, yogurt parfait with granola, Iced tea and water
Tuesday
Cole slaw, Pulled Pork, BBQ baked beans, Sweet potato souffle, Mousse in assorted flavors, Iced tea & water
We're told there will be vegetarian options.
There will be no lunch offered on Wednesday.
Prizes
We are grateful to Hasbro for increasing their contribution to this second major championship in Dayton, and to our many private donors this year. Overall donations, which amounted to the equivalent of four divisions' prize funds in 2007, are down significantly this year, and pay for only two. We are nonetheless happy to be able to offer a Division 5 prize fund that is between 2007 and 2008 values on a per player basis, prize funds for Divisions 2, 3 and 4 which are between 2007 and 2008 gross values and awarding the 2009 National Scrabble Champion the top prize of $10,000.
In addition, all division winners will receive personalized commemorative boards designed by Kelly Smith.
Inquiries concerning the allocation of the prize fund should be directed to this year's budget committee, consisting of John Chew and Mary Rhoades, preferably after the conclusion of the Championship.
For full details, see the prize table.
Format
The NSC will be paired using tsh along the lines of past events.
For full details, see the format description.
Accommodation and Dining
We have room blocks reserved at three nearby hotels. If you stay at one, you will be helping to support the NSC by contributing to our guest night quotas. If you do not, you will have to pay a facility fee instead, since our convention center playing room fee is based on our guest night quotas at all three hotels.
Crowne Plaza
Located at 33 East Fifth Street, Dayton OH 45402, across the street from the Dayton Convention Center, the Crowne Plaza also has a covered elevated walkway to the Center.
Hotel block dates will be available December 19–July 13, 2009 NSC09 room nights: July 31–August 4
NSC Group Code and Room Rate: The group code is CMC. $99+tax for 1 or 2 people, king bed or 2 queen beds.
Click here for online reservations and be sure to click on "Corporate, Group & IATA Identification" to enter our group code, CMC, under Group Booking Code.
To make your reservations by phone for the July 31 & August 1–4 nights, please call 1-800-381-9553 and ask for the special rate for the 2009 NSC (group code: CMC).
For those who wish to arrive early and/or stay late, please call the hotel direct at 937-224-0800 and mention our code: CMC.
Free parking in the Crowne Plaza/convention center parking garage for tournament players/committee staying at that hotel. Free Crowne Plaza airport shuttle for hotel guests from 7 A.M. to 10:30 P.M. Call the hotel to schedule your shuttle. Greyhound bus station only a few steps away from convention center & hotel.
Doubletree
Located at 11 South Ludlow St., Dayton, OH 45402, the Doubletree is just four blocks from the Dayton Convention Center.
NSA Group Code and Room Rate: The group code is SPC. The room rate is $94+tax. Indoor valet parking is $5. There is a complimentary airport shuttle for hotel guests.
For reservations, phone 800-222-TREE (800-222-8733) or book online; use the group code "SPC".
Marriott
Located at 1414 S. Patterson Boulevard, Dayton, Ohio 45409, the Marriott is about a mile from the Dayton Convention Center but offers a shuttle service for the event days for $20/person if you buy a pass.
The room rate is $112+tax for 1–4 people. Complimentary on-site parking. There is no airport shuttle.
For reservations, call 800-450-8625 or book online; use the group code "scbscba".
Roommate/Ride Wanted?
If you need a roommate and would like a listing here, please contact Mary Rhoades and specify your requirements: male, female or either, smoking or nonsmoking, etc. She will put a listing in this section. If you already have a room, please tell what nights your room is reserved. You can list your email address or phone number. Several people successfully found roommates for the PC this way.
Restaurants near the Dayton Convention Center
Stars Restaurant & Lounge, Top floor, Crowne Plaza
Spaghetti Warehouse, 36 West 5th Street, .05 mi
Subway, 45 S Main St # A, .13 mi
Lucky Dragon, 20 S Main St .14 mi
Cold Beer & Cheeseburgers, 33 South Jefferson St. .16 mi
Smokin BBQ, 200 East 5th Street .17 mi
Greek Deli, 12 East 3rd Street .18 mi
Take a Break, 26 South Main Street .18 mi
Super Subby, 1 South Main Street .19 mi
Swishers Too Cafe, 110 North Main Street .32 mi
Arby's 160 South Patterson Blvd. .21 mi
Jay's Seafood Restaurant, 225 East 6th Street .21 mi
Polo Grille, 11 S Ludlow St .22 mi mi
Mandarin Kitchen, 6 S Ludlow St .22 mi
Roly Poly Sandwiches, 33 N Main St .23 mi
McDonald's, 410 South Main Street .23 mi
Quizno's Subs, 38 North Main Street .23 mi
Chantilles, 40 N Main St .24 mi
My Favorite Muffin, 40 N Main St # 3 .24 mi
Chick-Fil-A, 10 W 2nd St .3 mi
Cafe Boulevard, 329 East 5th Street .3 mi
Oregon Express, 336 East 5th Street .3 mi
Pacchia, 410 East 5th Street .3 mi
Thai 9, 11 Brown Street .3 mi
5th Street Wine & Deli, 416 East 5th Street .3 mi
Blind Bob's Tavern, 430 East 5th Street .3 mi
Citilites Restaurant, 109 North Main Street .32 mi
Gallery Grille, 110 North Main Street .32 mi
Uno Chicago Grill, 126 N Main St .35 mi
The Dublin Pub, 300 Wayne Ave .5 mi
Kosher Restaurants in Dayton
Mary says "I cannot vouch for these, but they are listed as kosher."
Bernstein's Fine Catering & Uptown Deli Mart, 8331 N. Main St.,(937) 898-2761
Bernstein's Fine Catering regularly provides kosher catering to kosher facilities that have a mashgiach. Specializing in all life-cycle events. Uptown Deli Mart Comprehensive kosher grocery store. Frozen glatt kosher meats, fresh poultry, fresh cheeses, Middle Eastern salads, and frozen gourmet cakes from New York. Special order requests welcome.
Rinaldo's Bake Shoppe, 910 W. Fairview Ave., (937) 274-1311
Kosher/pareve under the supervision of Rabbi Hillel Fox and Rabbi Samuel Fox of Beth Jacob Congregation.
Registration
Who can register? If you live in the United States or Canada, you must have an NSA tournament rating as of when you register. You can get a rating by playing in any sanctioned tournament listed in the calendar. If you live outside of the United States and Canada, you must have at least one of the following as of when you register: an NSA tournament rating, the equivalent rating in your country, or an international WESPA rating.
When is the deadline for registering? Registration ends July 15. Registrations will only be accepted after that date in order to make division even and will incur a $75 surcharge. There will be no refunds after July 15.
A Minor Release and Consent form can be downloaded for players who have not reached the legal age of majority. It can be mailed with your registration or alone if you have paid online to Chris Cree. Alternatively, it can be signed by the accompanying parent or guardian at the NSC in Dayton.
By registering for the 2009 NSC, you agree to abide by the NASPA Tournament Rules and Code of Conduct. In particular, some games at this tournament, probably the highest Division 1 board without a Gibsonized player, will be annotated live. If you refuse to play a designated game with annotation, you will forfeit it, and may at the director's discretion be assigned a spread penalty of -200 points.
Before you register, please read our player bulletin, and check it again for last-minute updates before you travel to the event.
This year's Championship has five divisions, split at ratings of 1700, 1500, 1300 and 1000. Entry fees are $150 for all divisions. For the first time, unlimited play up will be permitted: anyone can play in Division 1, but for example only players rated below 1000 can play in Division 5. As in past years, a peak rating system will be used to calculate the qualifying rating (QR) that determines the lowest division in which you can play. If however your current rating at time of registration would place you in a lower division than your QR, then you may register in either your QR division or the next lower division. Ratings earned at any segment of a split-rated tournament count toward the QR. The qualification period runs from the beginning of August 2008 (immediately after the 2008 NSC) and ends on July 7th, 2009 (after the results from the past weekend are tabulated). A link to a list of each player's QR will be posted here shortly. You may change your division after you register, as long as you do so before July 15th; to do so, contact John Chew. If your QR rises above the limit for your division, you will automatically be moved to the lowest division for which you qualify.
If you are ready to register now, you can do so in one of three ways:
online registration with credit card payment.
online registration with subsequent optional offline payment (if you do not wish to pay online). Mail your fee, payable to Chris Cree, to Chris Cree.
Print the paper registration form, follow its instructions, and mail your payment, payable to Chris Cree to Chris Cree.
No manual processing fee will be charged. Please include any surcharges in your payment.
Check-In
To play in the first round on Saturday morning, you must check in between 10:00 A.M. and 10:00 P.M. on Friday at the NSC check-in desks in the convention center lobby. You may ask a friend to check in for you by proxy, if you cannot check in in person. If you check in by proxy but do not show up to play, then neither you nor your proxy will be permitted to check in by proxy at future events. If you do not check in before the desks close at 10:00 P.M., you may join the championship in progress as soon as it is convenient for the pairings staff to add you back in; this may not take place before Sunday morning. No refunds will be issued to latecomers.
When you check in, you will be given an announcement sheet. This is to reduce the number of announcements that have to be made on Saturday morning, so that the event can get underway quickly. You are responsible for reading the announcements and schedule!
In an emergency, if you are delayed en route to check in or for any session, call Mary Rhoades at 817-718-3115.
Player Helpers
We need three kinds of volunteer help from the player community: division assistants to work with the division leaders, "runners" to perform general errands, and the loan of laptops to run word judge software. Please contact Mary Rhoades if you can help in any capacity.
Division Assistants
The division assistants will work closely with division leaders collecting result slips and delivering them to the data operators, keeping the division tidy, and any helping with any other needs the division leaders have.
The following committed so far to work as division assistants:
Amy Krafchick
Lynn Sneed
Helyne Igra
Chris Wiegand
Steve Pellinen
Pamela Gould
Sue Grogan-Johnson
Runners
The other volunteer/interns we call "runners" do the following sorts of things:
Greeting visitors
Getting supplies
Running errands
Tidying after play
If you live in the Dayton area, or will be travelling with a friend or family member to the NSC, please consider donating one or more days of your time to working behind the scenes to make the event a success.
The following committed so far to work as runners:
Division 1 Tidy-person

Connie Creed
Division 2 Tidy-person

Lois Greene
Division 3 Tidy-person

Linda Bianca
Division 4 Tidy-people

Rebecca Owen
Nancy McCarroll
Division 5 Tidy-person

Ruth Hamilton
End-of-tournament Cleanup

Deborah Gaudier
Laptops
We need 12 people to volunteer to bring laptops for word judging. The laptops should be set up and left running in the playing room from 8:15 A.M. to 7:00 P.M. each day. They should run the latest version of Zyzzyva using the OWL2+LL word list, and the screen saver should be disabled during playing sessions.
The following people have volunteered to provide their laptops to the NSC:
Brad Mills (4)
Tina King
Vincent Castellano (Div 1 desk)
Wendell Smith (Div 2 desk)
Dallas Johnson (Div 3 desk)
Shelley Stevens Ubeika (Div 4 desk)
Dan Stock (Div 5 desk)
Staff
Organizer
Chris Cree
Director
Mary Rhoades
Master of Ceremonies
Alan Stern
Friday Registration Volunteers
T-shirt distribution
Michael Zoller
10:00 A.M.–2:00 P.M.
Barbara Major, Willie Pitzer, Ruth Hamilton, Lois Greene, Keith Cejmer
2:00 P.M.–6:00 P.M.
Travis Green, Ginger White, Colleen Shea, Lisa Slankard, Linda Bianca
1:00–4:00 P.M.
Sue Hoehn
5:00 P.M.–10:00 P.M.
Judy Cole, Verna Berg
6:00 P.M.–10:00 P.M.
Tapani Lindgren
Friday All-Purpose Volunteers
Joe South
Ross Brown
Brian Miller
Mike Early

| Division | Leader | Assistant |
| --- | --- | --- |
| Division 1 | Bryan Pepper | Lynn Sneed |
| Division 2 | John Robertson | Chris Wiegand (Sat, Sun, Mon, Wed) / Jeremy Cahnmann (Tues) |
| Division 3 | Wendell Smith | Pamela Gould (AM) / Helyne Meshar Igra (PM) |
| Division 4 | Allen Pengelly | Cara Canik (Sat AM) / Ann Jenks (Sat PM) / Sue Grogan-Johnson (Sun-Wed) |
| Division 5 | Dan Stock | Amy Krafchick |

Please contact Chris Cree if you are interested in sponsoring the NSC, with donations of merchandise or cash.

Sponsor list:

Sam Kantimathi, manufacturer of digital timer, boards, tiles, etc.

20 boards, 5 standard SamTimers, and a set of NSC tiles for every player, as well as a percentage of gross revenue from the sale of NSC tiles.

GSN Digital/WorldWinner Online Games

Details to be announced

Gene Tyszka, manufacturer of digital timers, boards and tile racks

Limited edition Zircote deluxe SCRABBLE board (signed and numbered-only 4 ever made), including board cover, two matching stained racks with pouch, and a tile bag, to be given in raffle with raffle proceeds donated to the NASPA organization as seed money.

Bob Schoenman

Six sets of double-injected Protiles

Donations

National SCRABBLE Association

Printing of NSC09 paperwork

Kathy Johnson

$100

Anonymous

$100

Anonymous

$265

Luise Shafritz

Quilted board cover

Mary Krizan

Tile bags for players who come in last in each division

Scott Petersen

Nine DVDs of the Scrabylon movie

Peter Schwartzman

CD of his WORD NERD book as prizes for Divisions 2, 3, 4 and 5 for the best EARTH word

Paul McCarthy

Two LETTERATI books

Barbara Major

$100

Benjamin Witz

$50

Anonymous

$200

Mike Baron

3 WORDBOOKS as prizes for the 3 highest words with N-S-C in them
10 laminated CHEATSHEETS for the lowest 10 finishers in Division 5

Vendors

If you have a product to sell to SCRABBLE players, this is the place to do it. The 500+ most avid fans of the game will be in one place with money ready to spend at your table. To find out more about becoming an NSC vendor, please contact Mary Rhoades.

The following vendors have signed and returned the vendor agreement with any monies owed, if applicable, listed in the order the vendor agreements were received.

Sam Kantimathi, manufacturer of digital timers, boards, tiles and tile racks
Gene Tyszka, manufacturer of digital timers, boards and tile racks
Mary Krizan, tilebags
Maureen Kennerk, tilebags
Peter Schwartzman, WORD NERD books
Brian Miller
Cheryl Allen-Munley, custom game bags

More Information

For more information, please check our player bulletin and the 2009 NSC FAQ first before emailing the Championship Committee.